Let's face it, managing IT can be overwhelming. From software updates and security patches to network monitoring and troubleshooting, the sheer complexity can consume valuable time and energy.
That's why managed service providers (MSPs) are so useful, offering you a trusted sidekick to manage your technology infrastructure and unleash its true potential.
In this blog post, we'll discuss:
Managed IT definition/managed IT services definition
How managed services work
Why managed services can be a game-changer for your business
Why Managed Services Are So Important
First thing's first: what are managed IT services by meaning?.
Managed IT by definition refers to the outsourcing of comprehensive IT management and support to a third-party service provider. Why use managed IT services? They are like having a tech-savvy superhero on your team. From round-the-clock support to proactive monitoring and rapid response times, managed service providers (MSPs) ensure your technology infrastructure remains resilient and robust.
Over 92% of G2000 companies use IT outsourcing services today – illustrating managed services importance in driving business growth.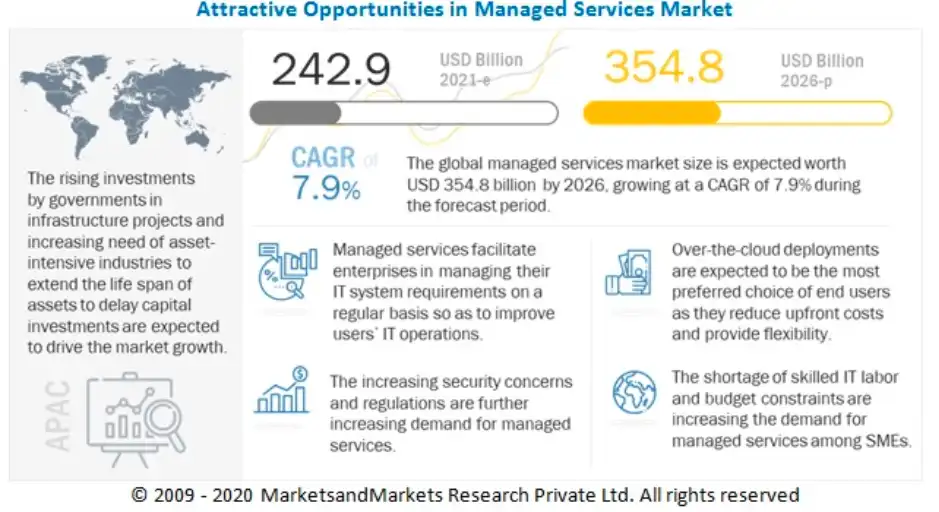 Image Credit: Markets and Markets
With the market size expected to reach 354.8 billion by 2026, the time for you to leverage the benefits of managed services is now. Let's take a closer look at why managed IT services are better, exploring the managed IT services value proposition and how managed services work.
Exploring the Managed IT Services Value Proposition
1. Insight & Expertise
Why managed IT services? In every superhero story, there's a dynamic duo that conquers all challenges. The same goes for your business and your managed IT services provider.
By joining forces with an MSP who helps you understand managed IT services meaning, you gain a trusted partner who understands your business goals and aligns technology strategies to help you achieve them. Their deep understanding of IT systems, software, and infrastructure enables them to offer valuable insights into optimizing your technology environment with specialized expertise.
2. Time Optimization & Enhanced Productivity
Imagine a world where technology is your ally, making your life easier and your business more productive. Why use managed IT services? They bring this vision to life.
By entrusting your technology needs to experts, you can say goodbye to the time-consuming and often frustrating task of troubleshooting IT issues as you'll have a team of professionals who handle:
Routine maintenance
Proactive monitoring
Rapid problem resolution
Business continuity
And more
This is why managed IT services are having a personal IT butler, ready to help your in-house team tackle any tech challenge that appears.
3. Tailored IT Solutions to Fit Your Needs
Your business deserves a customized IT solution that fits like a glove. Managed IT services providers understand this, and they take the time to understand your specific requirements, challenges, and goals.
Their level of service expertise allows them to select the right tools and solutions for your organization, ensuring that technology strategies align with your business objectives.
Whether it's cloud computing, cybersecurity, data management, or infrastructure optimization, FTI has the skills and knowledge to build a solution that helps maximize your capital expenditures.
Build a long-term IT roadmap that compliments your business goals.
4. Proactive Monitoring and Maintenance
Another reason why managed services are so valuable is that MSPs utilize advanced monitoring tools and software to keep a constant eye on your IT infrastructure and day-to-day tasks.
As your single point of contact, they proactively identify and offer support for potential issues, performance bottlenecks, and security vulnerabilities before they escalate into major problems.
By monitoring key metrics, analyzing trends, and generating detailed reports, a good MSP can provide valuable insights into your system's health, performance, and areas for improvement.
5. Cost Savings
No more pouring gold into expensive servers, hardware upgrades, and maintenance costs. MSPs take on the responsibility of managing your IT environment, providing the necessary infrastructure and expert support at a fraction of the cost.
This is why managed service providers are so useful in ensuring resources are allocated efficiently, as they help you eliminate unnecessary costs and maximize the value you derive from your IT investments.
They also offer a range of different pricing plans, including break fix, fixed monthly, and other service offerings so you can decide which option is best for you.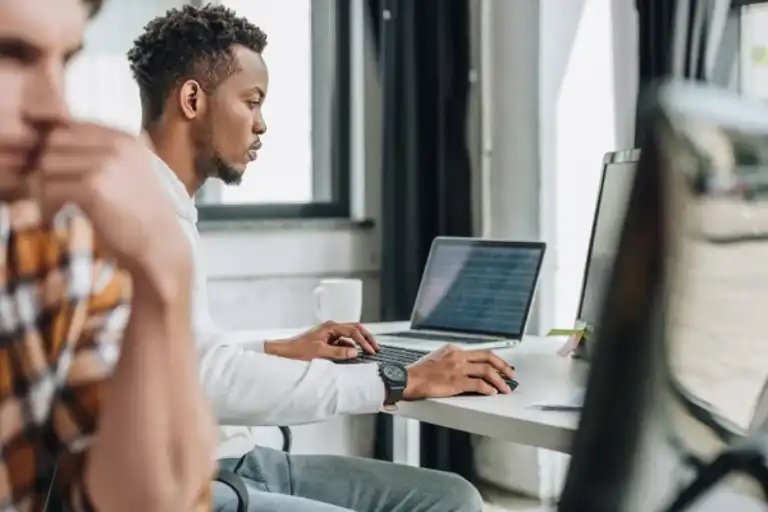 6. Improved Digital Security
Another reason why managed IT services are better is that they are more equipped in protecting your data and systems.
Data security and compliance are the unsung heroes of the IT world, silently shielding your sensitive information and client data from the lurking dangers of cyber crime. By conducting risk assessments, implementing security controls, and providing compliance guidance, managed services partners offer valuable insights into safeguarding your data and mitigating potential risks.
This is an especially important factor to consider in your managed IT services value proposition as in today's digital age, 43% of all cyber attacks are targeted at SMBs
Leverage the Benefits of Managed Services with FTI Services
At this point, you've been provided a managed IT services definition, a comprehensive list of the different benefits available, and what key factors to look out for in seeking out an MSP. And in exploring managed services importance, it's likely become clear to you that MSPs play a pivotal role in ensuring long-term success as your business grows.
By partnering with a managed service provider (MSP), you gain access to valuable insights that can drive operational efficiency, enhance security, support informed decision-making, and ultimately contribute to your organization's success in the digital age.
At FTI Services, we have over 38+ years experience helping businesses like you eliminate the burden of managing your own IT problems. Learn more about why managed services delivered by us are your best opportunity for success!