Having strong and efficient IT systems is crucial for staying competitive and adapting to the rapidly changing technological landscape of today's business world.
That being said, IT problems in business are inevitable, and they can significantly affect your business's productivity and revenue.
In this blog post, we will discuss some of the most common technology problems businesses face and how a managed service provider (MSP) can help you solve them.
Understanding Managed IT and It's Importance in Business
Information technology is an essential component of your business operations, and any IT-related problems can significantly impact your employee productivity and profitability.
To ensure seamless IT operations, many companies are now opting to partner with managed service providers (MSPs) who specialize in providing comprehensive IT services and support – with over 92% of G2000 companies now outsourcing their IT as a way to eliminate the burden of dealing with IT problems themselves.
In fact, managed services have become such a popular solution for mitigating problems with IT in recent years that the MSP market is projected to reach USD 354.8 billion by 2026.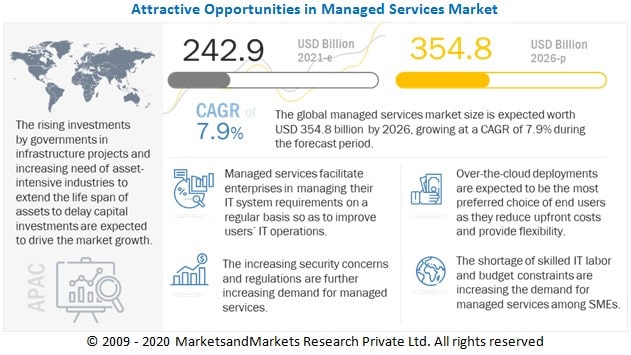 Image Credit: Markets and Markets 
Let's take a look at some of the most commonly faced technology issues in business and how an MSP can help!
What Are the Most Common IT Problems in Business?
1. Network issues
Network issues can occur due to several reasons, such as outdated hardware, insufficient bandwidth, or misconfigured software – but one thing's for sure: a network outage or slow internet connection can bring your business to a grinding halt.
One study shows that network downtime can even cost you up to $9,000 per minute.
Troubleshooting network problems and mitigating slow performance can be time-consuming and challenging, especially if you do not have the technical expertise internally.
Luckily, an MSP can help you identify the root cause of your network issues and implement effective solutions to resolve them quickly. They can also proactively monitor your network and detect potential problems before they escalate.
Check out these additional resources to learn more about the benefits of working with an MSP!
2. Cybersecurity Threats
Cybersecurity threats such as malware, phishing attacks, and ransomware are becoming increasingly sophisticated, and as a small business (SMB), you may be struggling to keep up.
As one of the most common technology problems today, a successful cyber-attack can lead to everything from data loss, financial damage, and reputational harm.
It's best to find an MSP who can provide you with robust cybersecurity solutions that include firewalls, antivirus software, and intrusion detection systems as a way to mitigate these threats.
It's also smart to educate your employees on best practices to avoid falling prey to cyber threats and conduct regular vulnerability assessments to identify and mitigate potential risks.
3. Data Loss
Data loss can occur due to several reasons such as hardware failure, human error, accidentally deleting data, or cyber-attacks.
Losing access to data that's critical to your core business operations can have severe consequences such as lost revenue, decreased productivity, and damaged business reputation – so much so that 60% of SMBs fail within six months of facing data breach.
Luckily, an MSP can help you implement a comprehensive data backup and disaster recovery plan to ensure that your critical data is secure and recoverable in case of a disaster. They can also regularly test your backups to ensure their effectiveness and update them as necessary.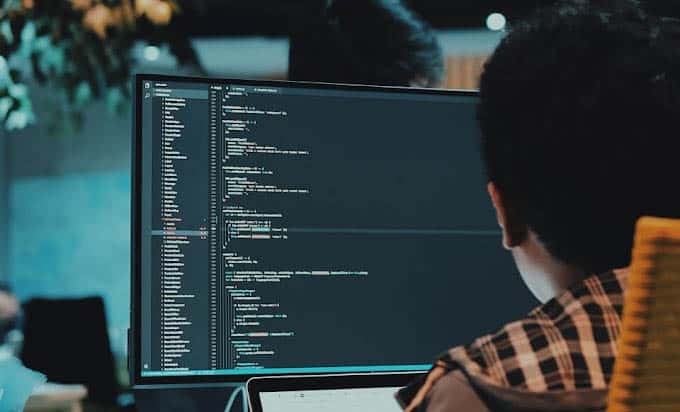 4. Software and Hardware Issues
Software and hardware issues are a common IT problem that can be frustrating and time-consuming to resolve, especially if you do not have access to the technical expertise you need to mitigate them from recurring again.
Outdated software and hardware directly slows down your core operations and affects your productivity, let alone dealing with the costly expenses of updating and upgrading these technologies on your own.
An MSP can help you ensure that your software and hardware are up-to-date and properly maintained, while also providing you with competitive rates on upgrades that align with your business goals and budget to prevent common IT issues from occurring again.
5. Lack of IT Strategy
A lack of IT strategy can lead to disjointed IT systems, wasted resources, and missed opportunities. Without a clear IT strategy, you may struggle to keep up with the latest technology trends and fail to leverage technology to drive innovation and growth.
Whether you're integrating cloud services or mitigating security risks, an MSP can help you develop a comprehensive IT strategy that aligns with your long-term organizational goals and budget.
They can also provide you with guidance on the latest technology trends and help you identify opportunities to leverage technology to drive growth and further mitigate IT problems in business down the line.
Feel Like You're Shooting in the Dark when it Comes to Your IT Operations?
Strategize Your Long-Term Success with FTI Services
Mitigate All Your Problems with IT By Relying on FTI Services
Technology issues in business are inevitable, but they do not have to bring your business to a standstill. An MSP can provide you with comprehensive technology solutions that can help you identify and mitigate potential problems with IT before they escalate.
By partnering with an MSP like FTI Services, you can focus on growing your business while leaving your IT problems to the experts.
With an average first call resolution rate of 94.1%, we can help you resolve your technology problems FAST – learn more about why we're your best choice for mitigating IT problems for good – contact us now.